Rogues

Rogues:
Scarface: A gigantic male lion with a shocking snow white mane and pelt; he has dramatic criss-crossing scars across his entire face and the left ear has been ripped off so violently that it's taken a chunk of his facial skin and mane with it. Scarface is suprisingly old to be a rogue and still alive, kept that way thanks to his cunning and muscles upon muscles, which slide smoothly under his short pelt. Scarface wants nothing more than to take over a pride and rule it in his twilight years. He cares very little for anyone that gets in the way of this plan and overall, his personality can be described as cunning. He previously ruled a far away clan but was disposed by a younger male. He now travels with his younger, similarly albino brother. (Male)
Blazeclaw: Pale tawny male with a white belly. His actions are always thought over and planned, letting the results of his speech flow through his mind before they come out of his mouth. A sharp tongue is also located in there, coming out and biting like a snake if the lion is ever angry. Stubbornness also comes up here and there, if it is wrong it should not be done. Exceptions are made, but only for those close to Blazeclaw. Kindness to others is this lion's main goal, and if he succeeds only pleasure comes forth, no expected return of favour or anything of that type. This lion easily makes friends, but also makes enemies at the same rate, but most are made out of jealousy. Parents are Wolfstar and Darkface, Littermate to Sprucehoney. (Male)
Sprucehoney: Bright tawny male with stripes that hide right behind his ears. Sprucehoney is a quiet, reserved lion. He tends to keep his thoughts to himself. Some may think that he's cold and unfeeling, but really, he's just lurking in the darkness of his cubhood. Beneath his eyes hide the fear and terror that runs in his veins every time a lion walks past. Parents are Wolfstar and Darkface, Littermate to Blazeclaw. (Male)
Fangstripe: White male with dark eyes. Fangstripe has almost never gotten attached to any lion. He hates most lions, and will fight anytime he wants. Fangstripe might actually fight for you, if you're convincing enough. Parents are Wolfstar and Palestorm. (Male)
Breezestripe: Dark golden male with several spots over body. He is shy but isn't afraid to show off. If you can't stop him, don't try. He is very nice and is a really good friend once you get to know him. He always flirts with females. Parents are Flamestar and Nightflower, Littermate to Jayclaw and Owlfall. (Male)
Brackenclaw: A sleek strong male, copper hints to his fur. Antisocial, snarky, and the antithesis of a lion you'd want to be around, Brackenclaw is your standard male lion. He has quite a bit of narcissism going for him, and pride like you wouldn't believe. He's hateful and hurtful, and only occasionally does his ingrained altruism shine through. Parents are Wolfstar and Aquaflower. (Male)
Talonfang: A very pale male lion. Talonfang is very shy and hates being in crowds. He is very smart if he uses his wit. He is very considerate of others. Talonfang is affectionate to lions he knows but he is skittish of strangers. Parents are Midnightstar and Leafpelt, Littermate to Rainpaw. (Male)
_________________
StarClan: Lynxstar, Longstreak
StarPack: Bouldertail
BurningClan: Poppykit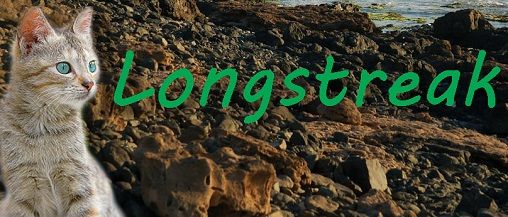 Twoleg








Posts

: 35


Join date

: 2010-09-02


Age

: 32



Name: Scarface

Rank: Rogue

Gender: Male

Picture: N/a

Appearance: A gigantic male lion with a shocking snow white mane and pelt; he has dramatic criss-crossing scars across his entire face and the left ear has been ripped off so violently that it's taken a chunk of his facial skin and mane with it. Scarface is suprisingly old to be a rogue and still alive, kept that way thanks to his cunning and muscles upon muscles, which slide smoothly under his short pelt.

Personality: Scarface wants nothing more than to take over a pride and rule it in his twilight years. He cares very little for anyone that gets in the way of this plan and overall, his personality can be described as cunning.

History: He previously ruled a far away clan but was disposed by a younger male. He now travels with his younger, similarly albino brother.
Name: Bloodfoot
Rank: Rogue
Gender: Male
Picture:
Appearance: Bloodfoot is a handsome young lion, his pelt a radiant silver-white accented with creams around the crown of his skull, with a still somewhat scruffy, short mane. He has expressive, clear blue eyes and small ears topping a large, broad head. With each step he takes, a smooth ripple of muscle is prominant beneath his skin despite having slightly thick fur.
Personality: Bloodfoot is dedicated to helping his older brother with his plans, no matter what it takes. Though he is sometimes prone to challenging Scarface's authority, he inevitably follows orders in the end because, while he is dominant, he is definitely the more submissive in personality out of the pair... this coupled with the fact he is no dummy and is well aware Scarface could take a chunk of hide right out of him. Bloodfoot is prone to sarcasm and back talk at times, betraying just how juvenile he actually is--a fact that is easily forgotten due to his substantial size.
History: Not too long after his brother Scarface was chased from their pride, Bloodfoot followed after him and joined him to help him succeed in his goals of taking over a pride.
Name: Hawkeye
Rank: Rogue
Gender: Male
Picture:
Appearance: Large tan male with a thick black mane. Has one amber eye and one blue eye.
Personality: Hawkeye is a proud lion. He never backs down from a challenge. But he' not foolish. He knows when it's a good idea to take charge, and he knows when to back down an walk away
History: Single male cub born to a lone lioness. Has been a roamer and nomad his entire adult life.
Added Scarface, Bloodfoot, and Hawkeye.
Loner








Posts

: 145


Join date

: 2010-10-09


Age

: 36





Similar topics
---
Permissions in this forum:
You
cannot
reply to topics in this forum